the world's leading online shoemaking course
we've taught over 2,500 people how to design and make their own shoes from home.
If you're a total beginner, a designer, starting a shoe brand, or just want to learn the craft for fun - our Footwear Masterclass is for you.
within your first week you'll be able to make your own custom fitted shoes with confidence.
This course provides step-by-step shoemaking tutorials, starting with the basics and gradually progressing towards more advanced techniques. It covers everything from selecting the right tools and materials to assembling your own custom-fitted shoes from start to finish.
Inside you'll find over 50 hours of tutorials you can work through at your own pace with lifetime access.
✔ patternmaking
Learn how to make your own shoe patterns from scratch, and find a selection of ready-to-go downloadable patterns.
✔ shoemaking & bootmaking
Master the craft of shoemaking by working your way through these styles:
✔ Ballet Pumps & Loafers
✔ High Heels & Stilettos
✔ Mid, Kitten & Block Heels
✔ Zip, Lace-up & Pull-on Boots
✔ Mules & Strappy Pumps
✔ Platforms & Wedges
✔ Sandals & Sliders
✔ Traditional Men's
✔ Sneakers
✔ custom fitting & alterations
Learn how to build up your shoemaking lasts to create a bespoke fit based on your foot and leg measurements.
✔ ongoing support & lifetime access
Within the online course you can ask questions every step of the way and get ongoing support from our team of experts.
this course comes with a free shoemaking kit!
We know what you're thinking... "Where am I going to get all the supplies?" Well, this course comes with a free starter kit &
✈️ Worldwide Shipping 🌍
No need for industrial machinery, expensive tools, or years of design experience - you can make each pair with our curated shoemaking kit that contains all the supplies you'll need.

Here's what you'll get:
✔️ 1 Shoemaking tool kit
✔️ 1 Pair of shoemaking lasts in your size
✔️1 Component kit
get started
Enrol now and get instant access to the course. 👇
Don't need the shoemaking kit? Enrol here and get a discounted rate.
Payment will be taken in US Dollars $.
see what our students have to say...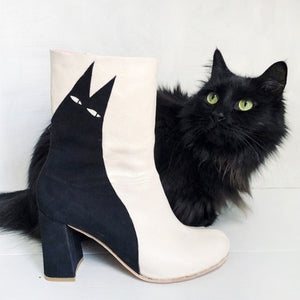 jocie
⭐️⭐️⭐️⭐️⭐️
"I really can't praise this course enough! Would give it 100/5 stars if I could!"
nerrisa
⭐️⭐️⭐️⭐️⭐️
"The absolute crème de la crème of shoemaking classes and supplies"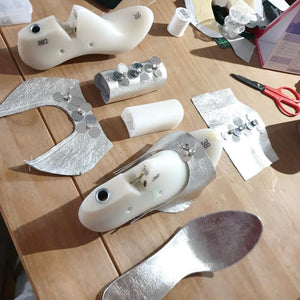 emma
⭐️⭐️⭐️⭐️⭐️
"Take this course! I can't recommend it enough, it's got everything you need."
lucila
⭐️⭐️⭐️⭐️⭐️
"I absolutely LOVED the course. It is EXCELLENT!!"
★★★★★

"It was such an amazing experience! I never could have imagined to learn so much i such a short course. I'll always be happy to say that I started my shoemaking journey with I Can Make Shoes!"

Samuel
★★★★★

"Thanks so much for all your help - I'm absolutely in love with my shoes, as is everyone else"

Michaela
★★★★★

"I can't praise the I Can Make Shoes team enough for their work. This course is well organised and delivered to a very high standard. Of all creative courses I've done none of them measure up to the course I completed here"

Jasvir
★★★★★

"THANK YOU SO MUCH! I absolutely loved the course. Amanda, you absolutely rock for starting your business to teach beginners. I'm going to tell everyone I meet to take your courses."

Stephanie
Have a read through our FAQ's below, or reach out to us at info@icanmakeshoes.com
Our women's sizes range from EU 34 / UK 1 / US 4 to EU 44 / UK 11 / US 14. Our men's sizes range from EU 40 / UK 6 / US 9 to EU 45 / UK 11 / US 14. Find out what size you are in our shoemaking lasts (shoe blocks) by following our size guide here.
We've got you covered! We have lessons within the course on how to make custom adjustments to your shoe lasts in order to get the perfect fit for wider feet.
Yes! We have a whole module dedicated to patternmaking, so you can design your own unique styles and make them from start to finish.
Absolutely! This course is suitable for complete beginners, and/or for those who have sewing experience. The course's goal is to equip learners with the skills and knowledge needed to create high-quality shoes on their own. With our ever-growing collection of lessons and tutorials, this online course is an excellent resource for anyone interested in learning the craft of shoemaking, regardless of their prior experience.
All of the lessons are pre-recorded. This means you can watch them online at any time, at your own pace.
Hi, we are real people - not robots. 🤖
We answer your questions with descriptions, videos, and pictures directly inside the course's online platform. And you'll have access to our online community where you can share your creations, questions, and tips with fellow home shoemakers.
Totally! We've taught this proven step-by-step process to total beginners for over a decade and already host thousands of students from all over the world.
Absolutely! While we mostly use leather for the demonstrations, you can follow the exact same steps using vegan materials. I even have a section on how to make shoes using scraps from your fabric stash. Plus all of the materials in the shoemaking kit are vegan friendly - including our glues.
The course has over 50 hours of tutorials, but don't worry, you've got lifetime access so you can work through at your own pace. And you can get started with the styles that excite you the most! 🤩
The optional add-on session with Amanda is a virtual meeting which means that wherever you are in the world, you will be able to participate. 💖
Whether you're looking to start your own shoe brand, or simply would like some tips and advice for your next shoemaking project - Amanda will advise you for up to 1 hour.
This session is valid for 1 year from time of purchase. We recommend making a pair of shoes on your own before scheduling in your session, so that you make the most out of this one-to-one consultation.